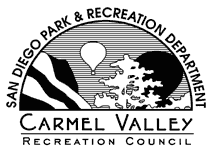 The first meeting of the Pacific Highlands Ranch Community Park Design Subcommittee will be on Wednesday, September 30, 2015 at 6:30 pm sorry, it's 6:00 pm at Pacific Trails Middle School, located at 5975 Village Center Loop Road, San Diego, CA 92130. The Carmel Valley Recreation Council has formed this subcommittee to guide the planning and design of a new community park in Pacific Highlands Ranch. The public is invited to attend all committee meetings. NOTE: Follow the PHR Rec Center Page for future information.
The committee is tasked with making recommendations on various facets of the proposed park, including facilities, accessibility, design and usage. Members of the public are invited to provide their thoughts on how the park can best serve the surrounding community. The committee will also be conducting its own outreach to nearby residents to ensure those nearest to the future park have an opportunity to help provide input.
The park is part of the Pacific Highlands Ranch master plan, which was adopted by the San Diego City Council in 1998. The park site is located across from the Village at PHR (the Trader Joe's center) and adjacent to Pacific Trails Middle School and Canyon Crest Academy. The committee is working to help bring this valuable addition to the community as soon as possible. It currently aims to provide final design recommendations to the Carmel Valley Recreation Council for approval by March 2016.