Due to lack of time, I have stopped adding content and maintaining the "Carmel Valley, San Diego" website. Please see the Carmel Valley News site (delmartimes.net) or the Carmel Valley Friends of the Library site (carmelvalleylibrary.org) for community information. Thanks!
See the City's Carmel Valley Planning Board page (https://www.sandiego.gov/planning/community/profiles/carmelvalley) or the City's Carmel Valley Library page (https://www.sandiego.gov/public-library/locations/carmel-valley-library) for additional information.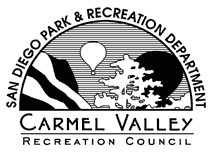 San Diego Park and Recreation Department
Carmel Valley Recreation Council
Carmel Valley Rec Advisory Board
Call 858-552-1616 for information.
The Carmel Valley Park & Recreation Council is NO LONGER a thing. Instead, the City has created a community advisory board that allows community input for the local City Parks. The Council works with the city to organize events and activities at Carmel Valley parks, ensures that parks are adequately maintained, and assists in the planning of new parks. All members are volunteers, who graciously give their time and energy to make Carmel Valley a better place to live.
Please contact the City staff at 858-552-1616 for information on the advisory board.
If you need to schedule an activity such as a sporting event, concert or other major use of the parks, you must contact the Recreation Center Staff. Call 858-552-1616 for more information.